TAN-Lists
PLEASE NOTE THAT YOU NEED AT LEAST TWO TAN NUMBERS FROM YOUR PREVIOUS LIST IN ORDER TO GENERATE/ACTIVATE A NEW TAN LIST.
Step 1
Log into your LSF Account -> General Administration -> TAN-Management.
Click on "Create new TAN list" and enter your second last unused TAN number.
Specify the amount of NEW TAN numbers that you wish to create.
Then click on Create.
Save and open the newly generated PDF on your computer.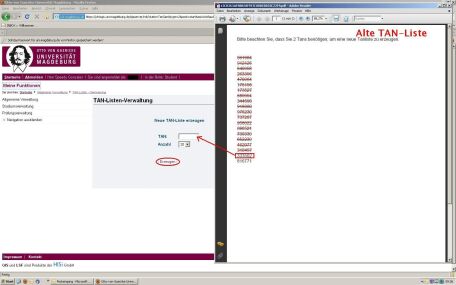 (Please click on the image to enlarge)
Step 2

Enter the last TAN number from your old TAN in the box "Old TAN:".
Enter the first TAN number from your new TAN list in the box "New TAN:".
Click on submit
Step 3

You will now be notified that the new TAN list has been activated.
In case that you have problems with your Tan-Lists please contact the Campus Service Center.